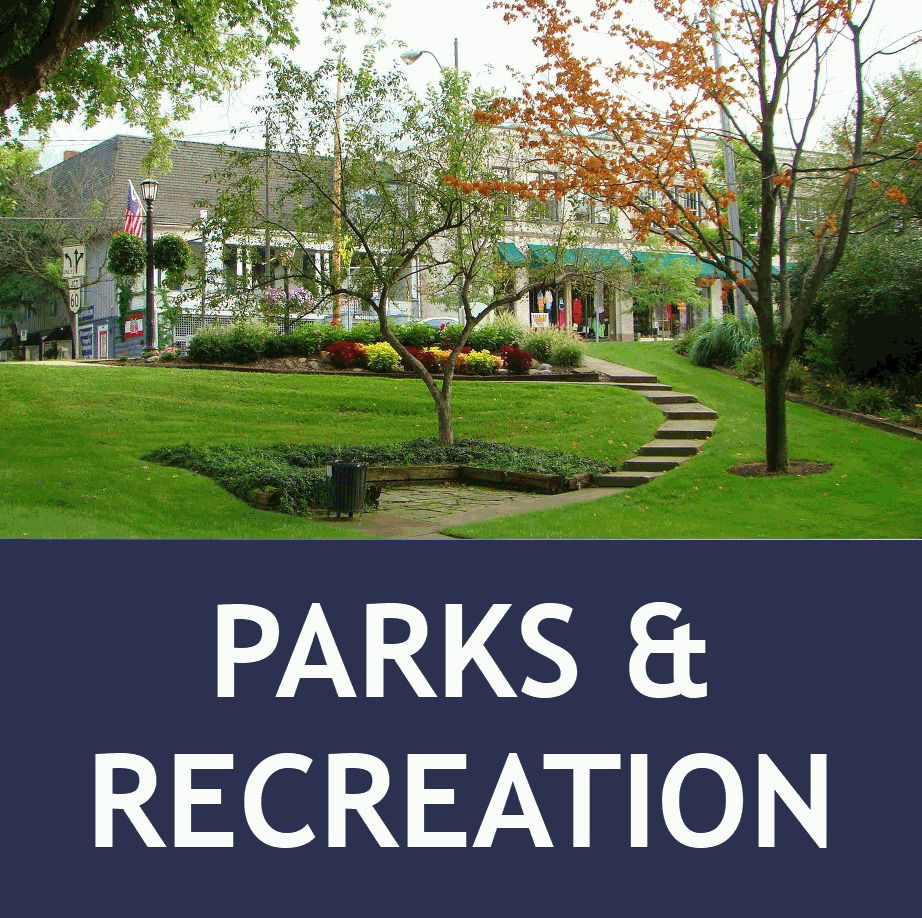 Devon Drive (City's Service Complex)
Rec Director: Chad Kuhns
Parks Supervisor: Marc Weisenberger
Phone: (440) 204-2496
Fax: (440) 204-2491
Website: www.leaguelineup.com/vermilionrec
Email: marcweisenberger@vermilion.net
---
Meetings
3rd Tuesday of every month at 6:00 pm at the Court/Council Facility (687 Decatur Street)
---
General Info
The main purpose of our department is to provide you, the community, with recreation and leisure opportunities. Recreation and leisure are vital parts in leading a healthy lifestyle.
---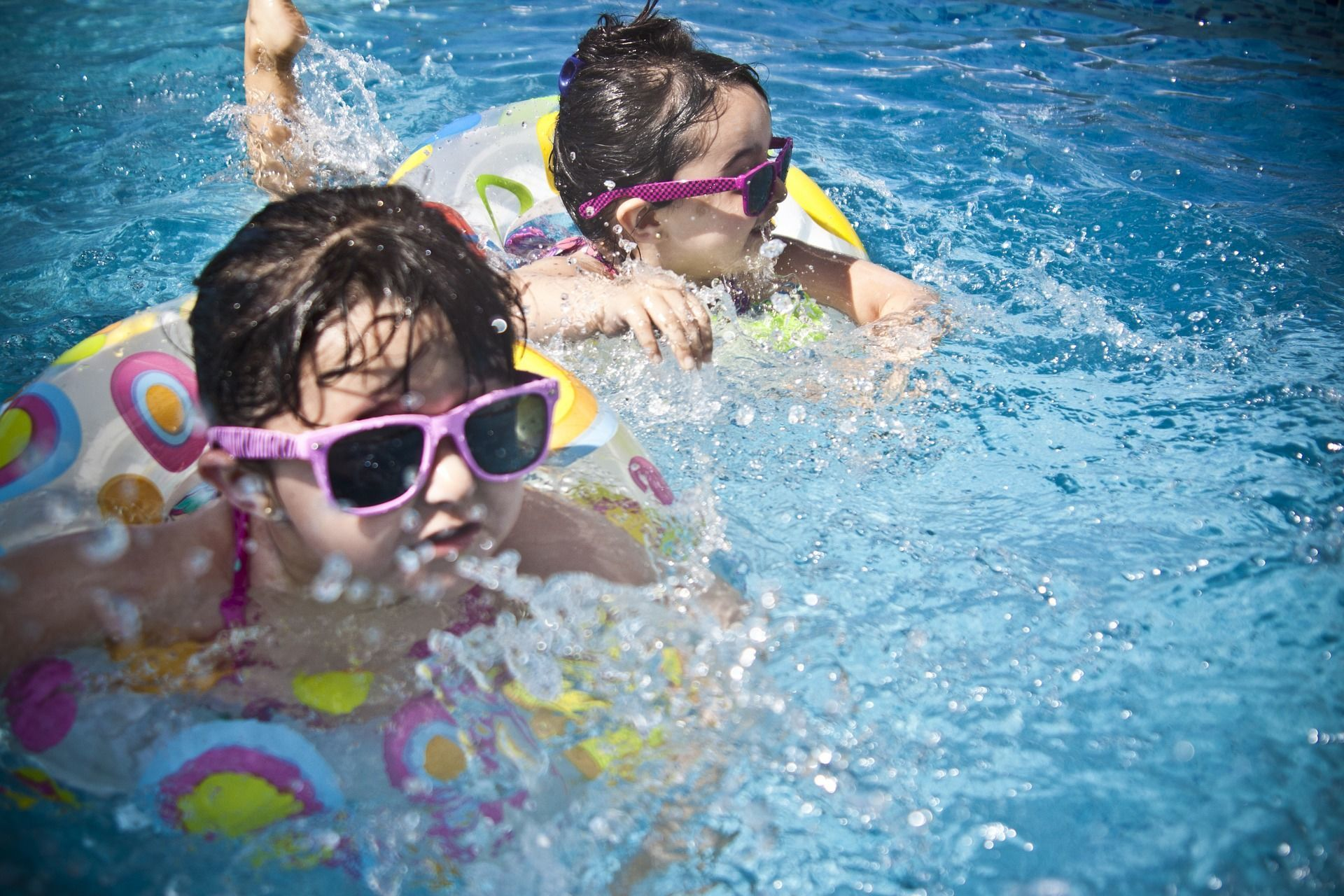 Community Swimming Pool
The Community Swimming Pool at 4846 Pineview Drive is typically open from Memorial Day to Labor Day, noon to 6 pm daily, weather permitting. Children 2 and under are free. Ages 3-17 $5.00. Ages 18-64 $5.00. Ages 65 and over are $3.00. Call the pool at (440) 967-9071 for more information.
Monday – Friday
10:00 am Rotary Water Safety/Swim Lessons (Registration Required)
11:00 am Adult Swim/Exercise
12:00 pm Open Swim
5:00 pm Adult Swim
6:00 pm Rotary Water Safety/Swim Lessons (Registration Required)
7:00 pm Open Swim *subject to change based on pool rental/organized activities
9:00 pm Pool Closed
Saturday – Sunday
12:00 pm Open Swim
6:00 pm Pool Closed
Pool Rental is available 6:00 – 8:00 pm for hosting private parties. $175
Pool Pavilion is available during open swim for hosting parties $45 + admission of guests.
MEMBERSHIP PACKAGES
Individual Resident $80.00
Individual Non-Resident $95.00
Family Resident * $170.00
Family Non-Resident * $195.00
10-Pack Punch Card $40.00
* Family of four, $30 for each additional family member
Pay Online
Visit the Vermilion utility bill payment portal to purchase memberships:
www.invoicecloud.com/portal/vermilionoh
Memberships must be purchased online at www.invoicecloud.com/portal/vermilionoh. Punch Cards may be purchased online or at the pool.
Swimming Lessons
Member Cost: $40
Non-Member Cost: $55
Session 1: June 20th – July 1st 10:00 am or 6:00 pm
Session 2: July 11th – July 22nd 10:00 am or 6:00 pm
Session 3: August 1st – 12th 10:00 am or 6:00 pm
Also offered is a Rotary sponsored program for young kids to learn water safety and to get familiar with swimming and the water. It is a week-long session June 13 -17 at 10:00 am or 6:00 pm.
---
Vermilion Parks & Beaches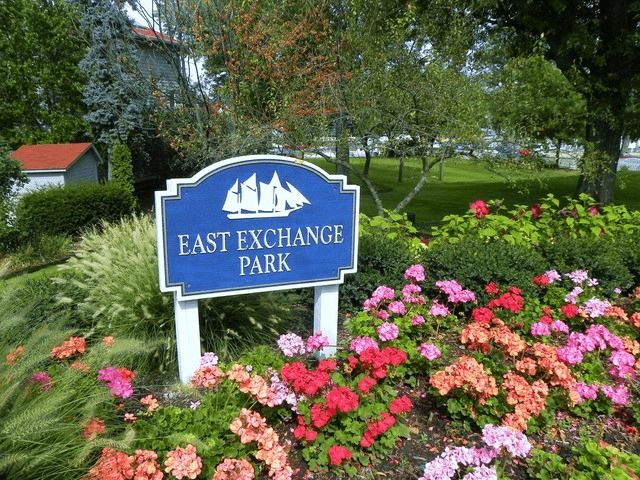 Exchange Park
A refreshing place to relax in downtown Vermilion. The beautifully landscaped Exchange Park is located at the northeast corner of Liberty Avenue and Main Street in the shape of a triangle. It was here that the village founding fathers erected a small clapboard warehouse. One room was leased to area farmers and was used for selling or exchanging products. A path wanders down to the river below, where the fish shanties once stood. Visitors will find seasonal plantings, trees, sitting areas and swings for children. A fantastic view of the Vermilion River awaits you. The park is home to a public comfort station housed in an historic building that once served as Vermilion's Police Department.

Victory Park
Locals and visitors alike enjoy many a concert and festive events at Vermilion's "town square." Weddings are always popular at the grand gazebo. Victory Park is located at the northeast corner of Main Street and Ohio Street. The Park was formerly referred to as "The Village Green" where people came to relax and meet with friends and neighbors. Across the street sits the historic Old Town Hall and Vermilion's famous Auction House. Beautiful rose gardens and other plantings will enchant you. An historic Firelands marker details the history of the area. This park continues to be the most widely used in the area, hosting the concessions for the annual Fish Festival, Woollybear Festival and Local Market. Locals and tourists enjoy "Concerts in the Park" at the Gazebo on Sunday evenings in July and August.

Main Street Beach
Main Street Beach is at the north end of Main Street. The beach features an observation platform and the Vermilion Lighthouse. Let the cool waters of Lake Erie splash on your feet as you stroll on the sandy beach. Stay awhile and watch a beautiful sunset over the lake at Main Street Beach.
Friendship Park
Friendship Park offers performance venues and maritime history in this beautiful pocket park in Downtown Vermilion. The park is located on the northwest corner of Liberty Avenue and Grand Street across from Ritter Public Library.

Sherod Park
Located approximately ¼ of a mile to the west of the city, on Lake Erie, this park was donated by the Bessie Sherod Family - a founding family of Vermilion. Featuring green space, trees, natural areas and beaches, Sherod overlooks the breathtaking Lake Erie. This park boasts 2 ball diamonds, 2 picnic shelters, 2 playgrounds, a soccer field and a walking track. Plans have been created to develop this park into a "passive" park.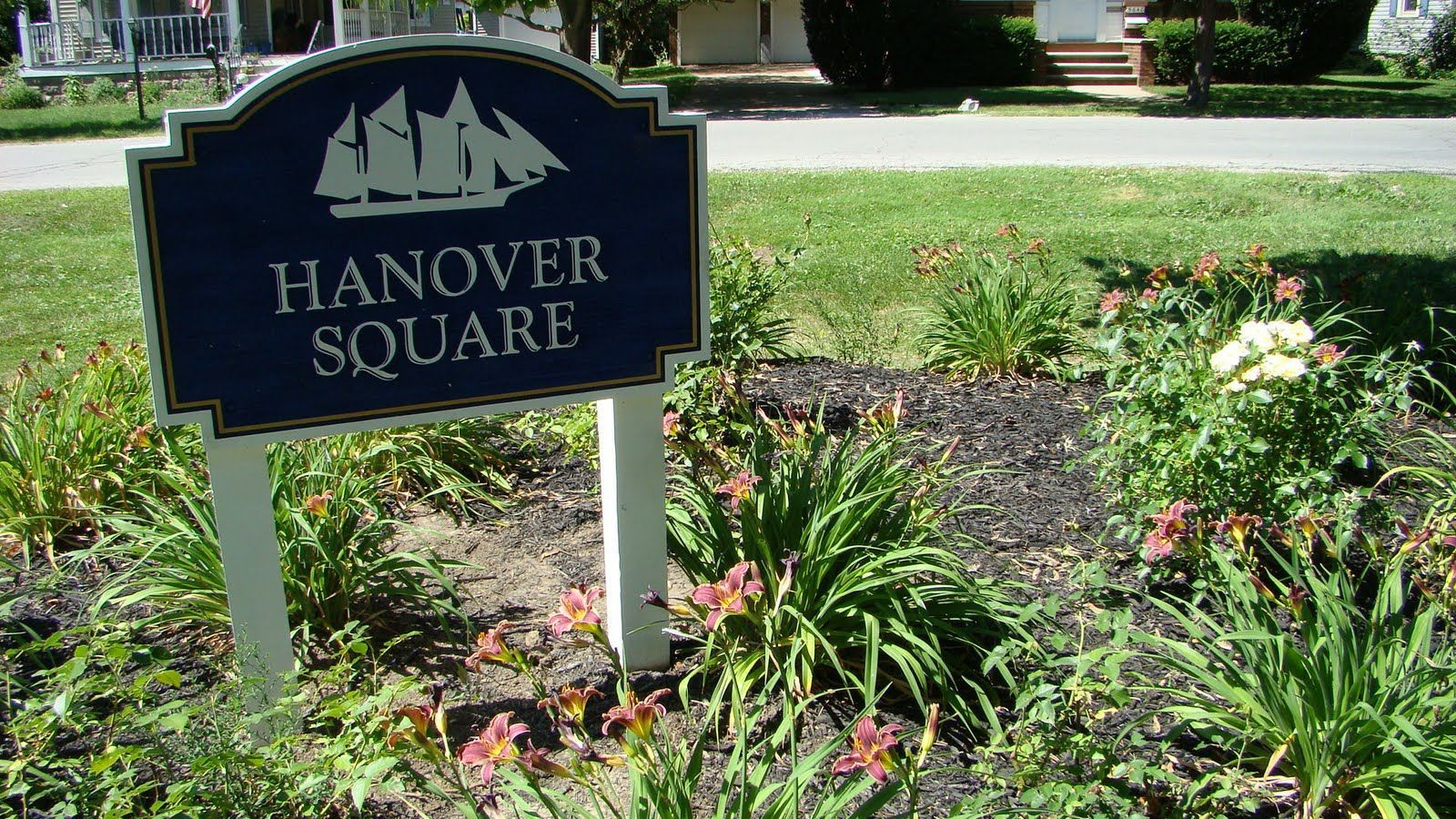 Hanover Square Park
Nestled in Harbour Town, this park is located at the corner of Ferry and Grand Streets. The park includes a swing set and benches. Located adjacent to the Ritter Public Library, this park attracts many visitors with a book in their hands.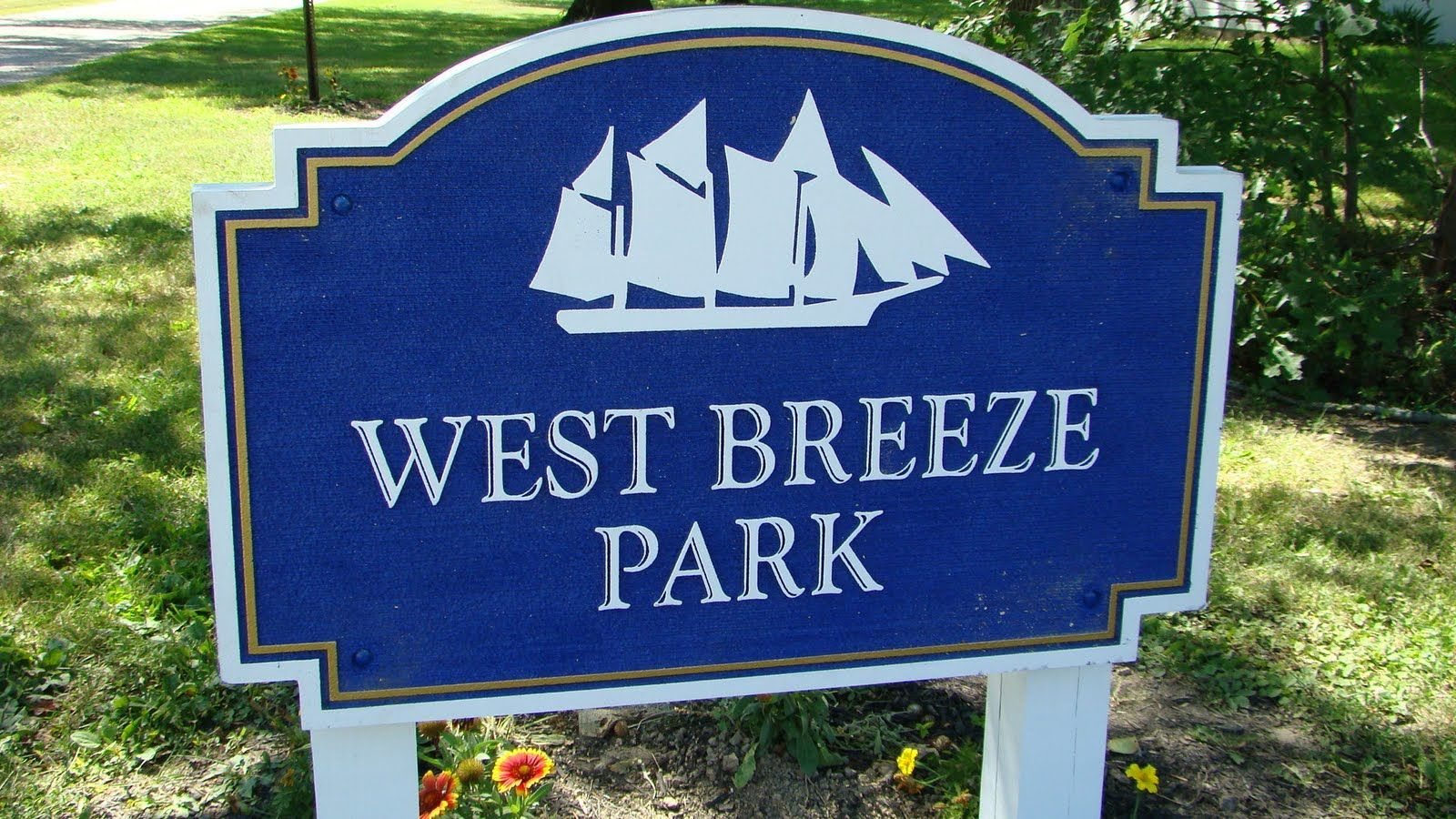 West Breeze Park
Located off of Rt. 60, this pocket park provides a pavilion and playground along with a sand volleyball court and soccer field.

Showse Park & Beach
Located in Vermilion on the Lake, this park contains a beach, two ball diamonds, a basketball court, tennis courts, a soccer field, a pavilion and a playground. Located along the shore of Lake Erie, Showse Park gives people the opportunity to stop for a rest or to enjoy the boats and scenes of the waterfront.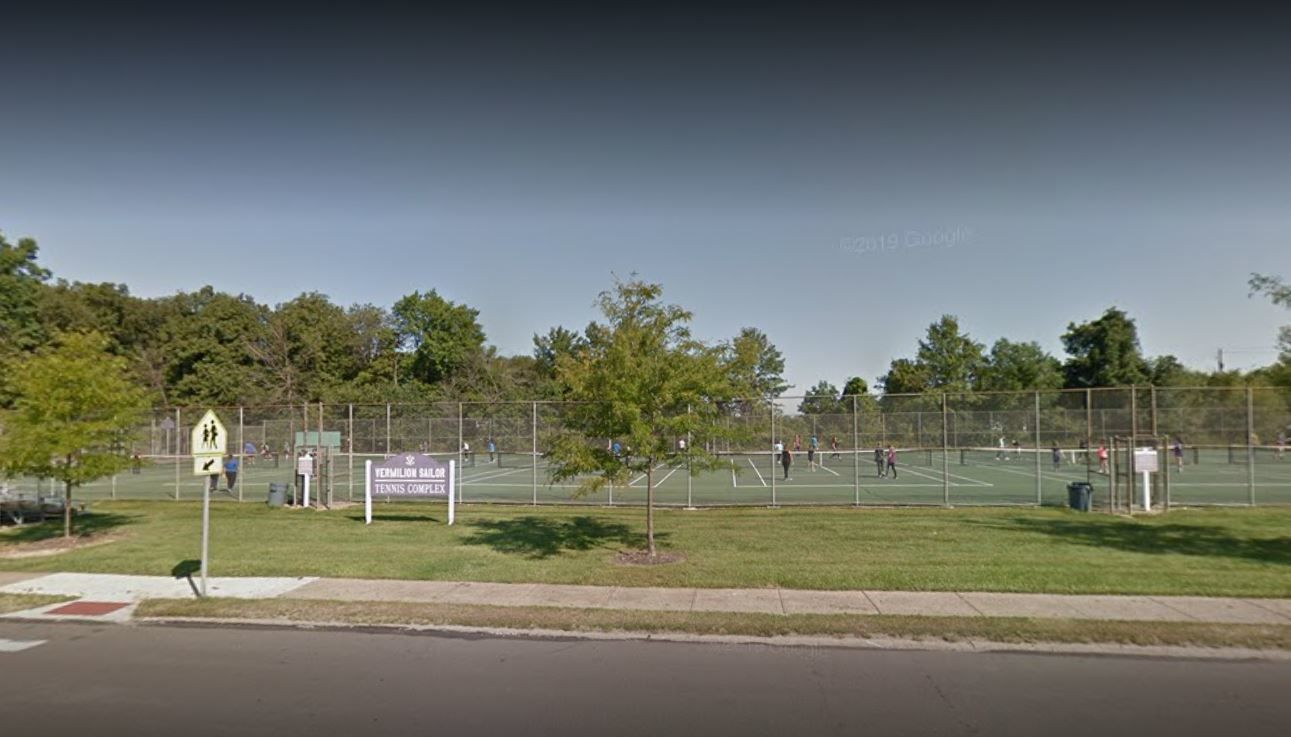 Sailorway Complex
This park is used by thousands of people each year. Sailorway Complex includes 5 ball diamonds, 5 tennis courts, soccer field, basketball court, football stadium, restroom and concessions stand. These facilities are along Sailorway Drive, which is accessed from Rt. 60 and from Sanford Street.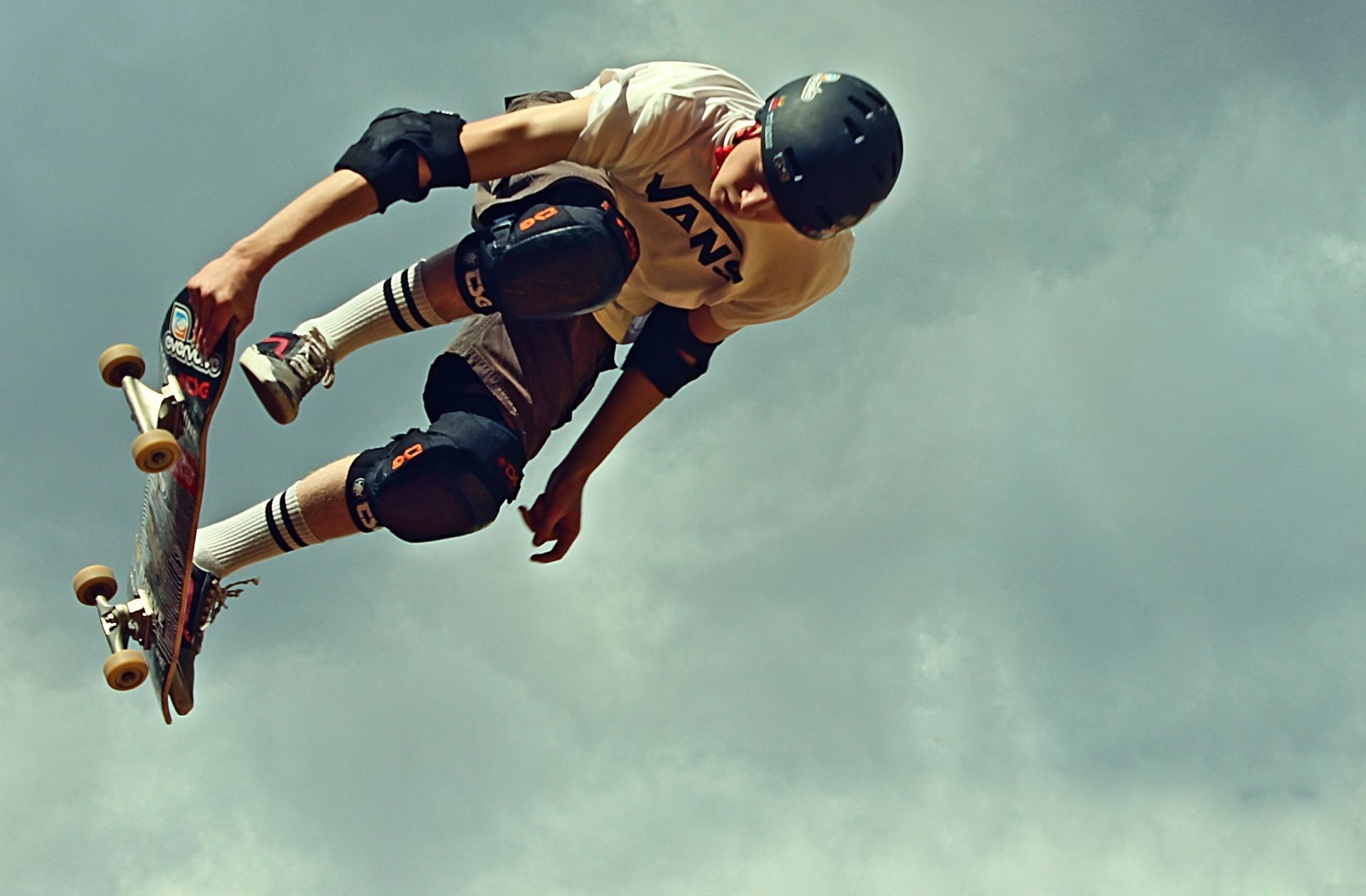 Vermilion Skateboard Park
Located on the corner of Douglas Street and Devon Drive, this facility is open dawn to dusk and has ramps, bars for sliding and can be used by those with bikes and and skateboards.

Schoepfle Garden
Schoepfle Garden is a truly unique park in the Lorain County Metro Parks system—70 acres of botanical gardens and natural woodland bordered on one side by the Vermilion River. The garden features collections of rhododendrons, roses, cannas, hostas, various shade plants, along with many varieties of shrubs, topiaries and trees. Whether you choose to follow one of the guided tours available throughout the year, or just wander freely at your own pace, it's a wonderful way to spend a morning or afternoon. Be sure to bring a camera!

The formal garden is highlighted by a wide central path lined in part with hedges and topiaries. Side paths wind through colorful arrays of exotic flowers, dogwood and European beech trees. The garden's colors change every few weeks in the warmer months as new species come into bloom. This is truly a place to been seen over and over again. The shade garden runs alongside the formal garden, draped in a cool canopy of pines. You'll find a nice contrast here to the bright and open areas. Various species of shrubs and shade plants line the floor including ferns, hostas and astilbes. There are places to sit and relax, and plenty of room to roam.

In contrast to both the formal and shade gardens are the nearly fifty acres of natural woodlands that lie between the gardens and the Vermilion River. This natural area offers a seasonal display of indigenous trees and wildflowers—a great place for wildflower hikes, birding and tracking. There's plenty of wildlife here as in other parks in the Lorain County Metro Park system, including deer, wild turkey and fox.

Schoepfle Garden is off State Route 113 on Market Street in Birmingham, Ohio. Take St. Rt. 58 north to St. Rt. 113. Go west on St. Rt. 113 to Birmingham. Cross bridge over Vermilion River and turn onto the first road on the left, which is Market Street. The garden is on the left.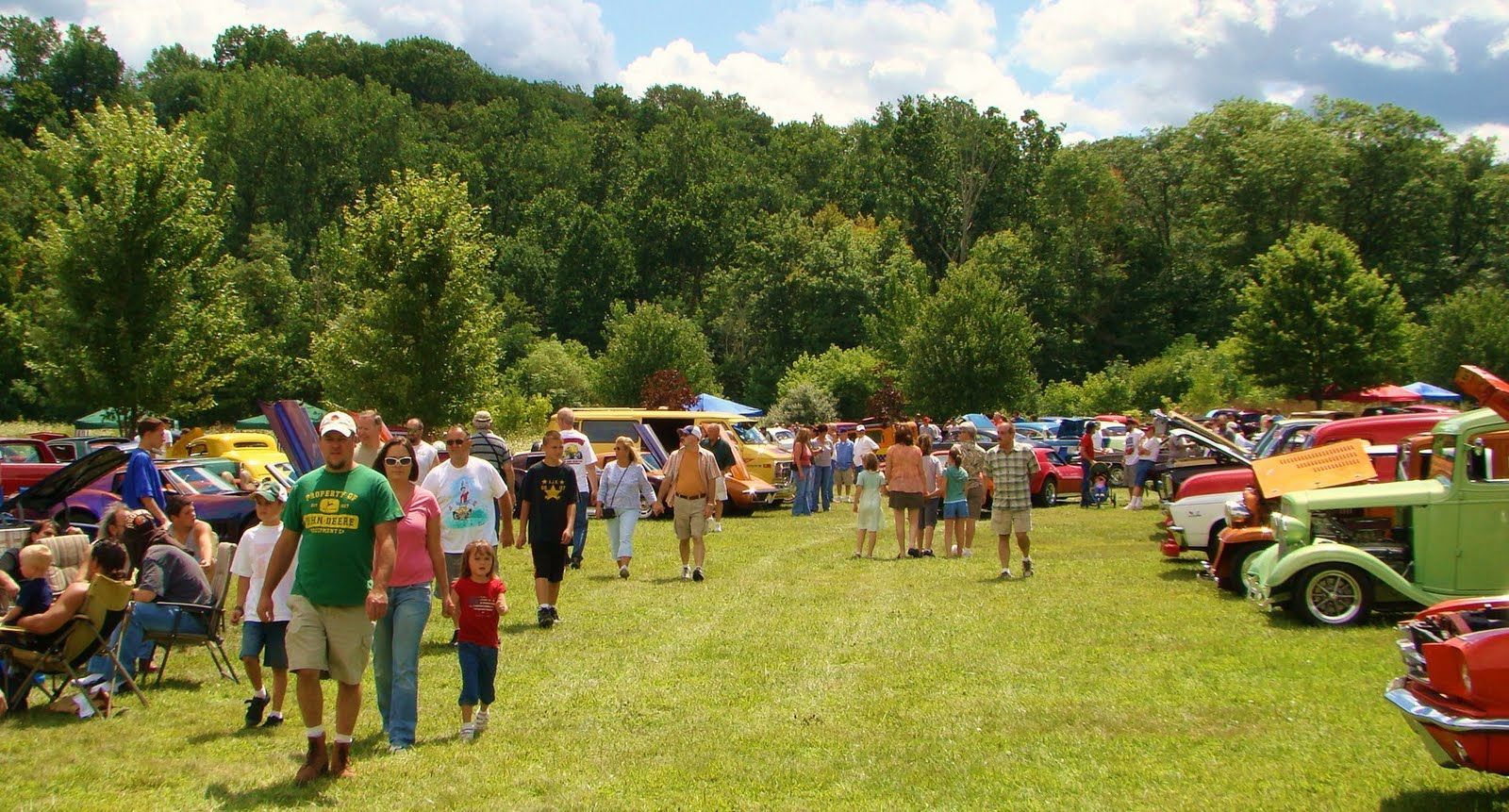 Vermilion River Reservation
Spanning two adjacent areas separated by the Vermilion River—Mill Hollow on one side and Bacon Woods on the other—this immaculate park is a favorite of picnickers, naturalists and anyone who just wants to enjoy its natural beauty. If you're looking to picnic in a beautiful place with plenty of activities for both adults and children, this is an ideal place to come. With 273 picnic tables and four reservable shelters, the Vermilion Reservation draws over 230,000 people a year—making it the number one picnic area in the Lorain County Metro Parks system. It's not surprising considering the spotless maintenance, plenty of open space, 5 miles of wooded trails, a playground and two ponds that attract visiting waterfowl year-round.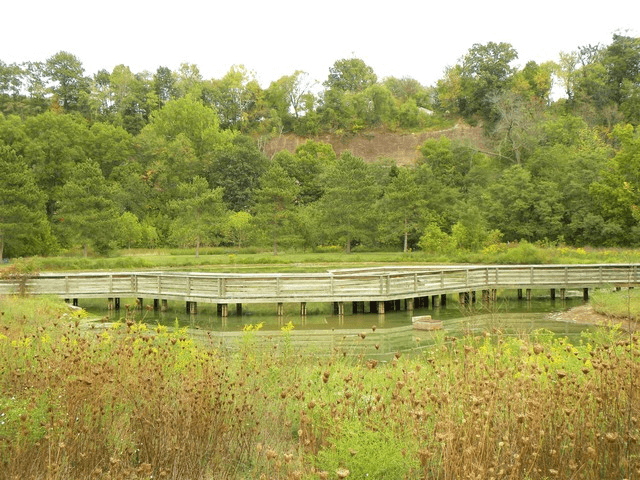 Surrounded by tall trees and a split-rail fence, you can't miss the picturesque Bacon House Museum and Carriage Barn at Mill Hollow. During museum hours you can walk through the original settler Benjamin Bacon's house, built in 1845. The museum features themes of daily living and puts an emphasis on the community life in Brownhelm, including the profound effect the railroad had on the economy and on people's lives. Just next to the Bacon House Museum, the Carriage Barn offers visitors information about the park and hosts nature programs throughout the year. A large rustic meeting room can be reserved for groups and includes a kitchen and large fireplace.There's more than natural beauty at Vermilion Reservation. Bacon woods hosts a sizable amphitheater for musical concerts during the warmer months, and the park in general features several special programs including the Annual Car Show (which shows over 1000 cars.) Perhaps the most striking feature of this reservation is the winding ribbon of shale cliffs carved by the Vermilion River. Millions of years old, these cliffs reveal layers of the past and drop bits of sandstone, shale and turtlerock along the riverbed. Since the Vermilion River has no industry along its banks, it is especially rich in wildlife. Aquatic life includes freshwater clams and several species of darters (small fish that feed along the bottom of the river) that turn brilliant colors during the mating season. Some insect species include mayflies, cadis flies and water pennies (beetle larvae that lie flat against a rock surface and look like pennies.)

The park naturally hosts a range of wildlife, but perhaps most singular at Vermilion River Reservation are the bald eagles. These magnificent creatures can be seen almost daily at Mill Hollow, perched in one of the tall trees near the center of the park. Other wildlife at the reservation is more typical of the area and includes Great Blue Heron, Greenback Heron and various geese and ducks. Wildflower lovers come from all over in spring and early summer to see the color and variety of these indigenous species which include Dutchman's britches and Blood Root along with a long list of other species found throughout northeast Ohio.

Rotary Centennial Park
This beautiful new addition to Vermilion's park system overlooks the Vermilion River under the historic water tower on West River Road in Harbour Town. This award winning park features flowering trees, plantings, benches, picnic tables and breathtaking views of the river. The site also features an historical marker plaque highlighting Vermilion's railroad history.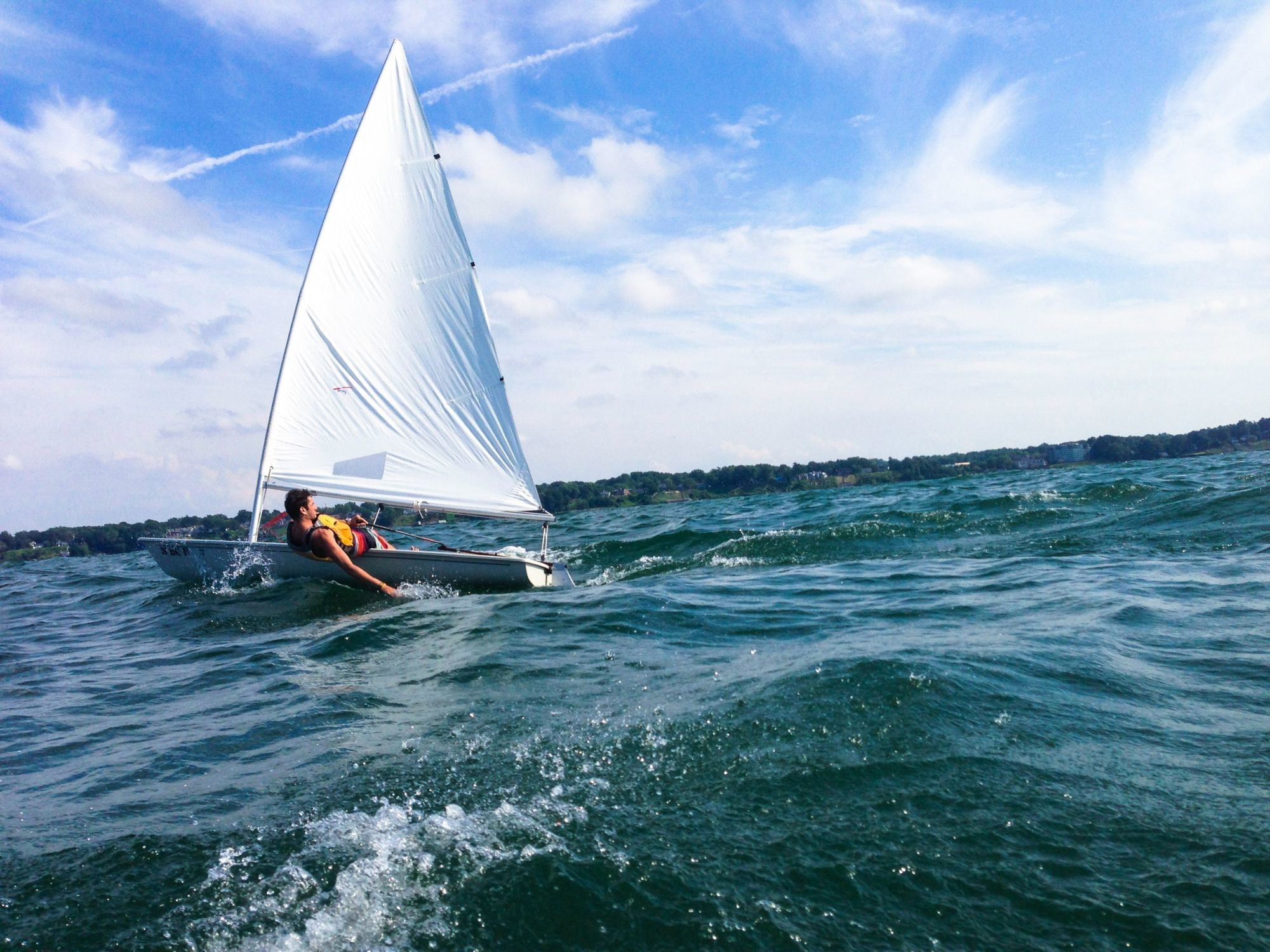 Nokomis Park
Nokomis Park offers Lake Erie beach access at the end of Minnie Wa Wa Street off Liberty Avenue.

McGarvey's Landing
McGarvey's Landing features breathtaking views from the Vermilion River boardwalk in historic Harbour Town. Trees, beautiful planters, benches, picnic tables and more provide a wonderful park-like setting to watch boats sail along the river. Public boat docks are available along McGarvey's landing by the Vermilion Port Authority. Many festivities take place at the boardwalk including rubber ducky races, lighted boat parades and watercraft races.

Linwood Park
Featuring one of the most beautiful beaches along Lake Erie, this private park is open to the public. A family car pass is offered on Tuesdays and Thursdays for $30 and daily room rentals are available above the Stand June 10 through Labor Day. Historic Linwood Park features great picnic areas, basketball and volleyball courts, tennis, shuffleboard and an ice cream stand. Historic cottage rentals are also available. Located at 4920 Liberty Avenue. For more information call (440) 967-4237.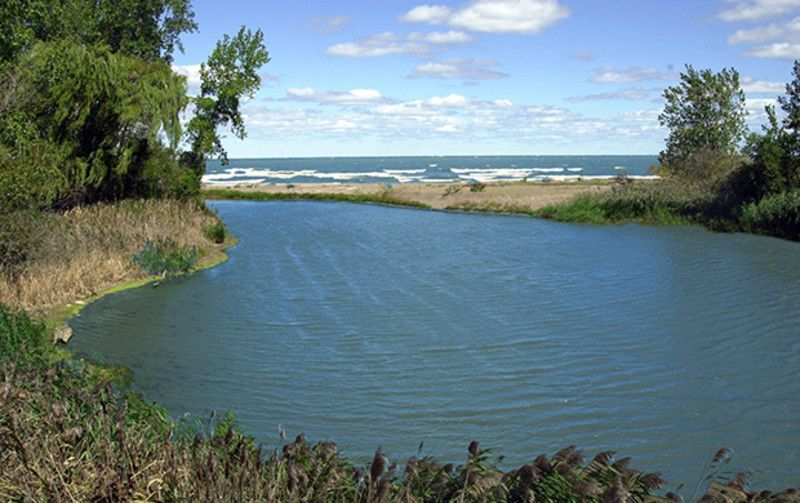 Old Woman Creek
Old Woman Creek National Estuarine Research Reserve, a National Estuarine Research Reserve, is located just west of Vermilion on the south-central shore of Lake Erie. Old Woman Creek is one of Ohio's few remaining examples of a natural estuary. As a transition zone between land and water, the site contains a variety of habitats including marshes and swamps, upland forests, open waters of the estuary, tributary streams, barrier beach and near shore Lake Erie. The Reserve supports a diverse and important assemblage of native plants and animals representative of freshwater estuaries. Old Woman Creek estuary is of particular regional and national significance because it is the only National Estuarine Research Reserve on the Great Lakes and the only freshwater estuary in the National System. The Visitor/Research Center overlooks the eastern shore of the estuary. The Center also provides laboratories for ecological research and serves as a focal point for public visitation and educational programs.
Erie MetroParks
The mission of Erie MetroParks is to preserve, conserve, protect, and enhance the natural and unique historical resources of the park district. Further, to provide opportunities for visitors and residents to use, enjoy, understand and appreciate these resources in a responsible, sustainable manner. Over fourteen Erie Metroparks and reservations are found near Vermilion, Ohio.
---
Parks & Recreation Policies & Group Use Permit
To reserve a park area, the Group Use Permit needs to be completed.
---
Parks & Recreation Board Policies
Park Use Permit: Picnic Pavilions @ Sherod /Showse /West Breeze

In accordance with local Ordinances and Parks & Recreation Board Policies, Use Permits generally are not issued for seasonal use of Beaches, Gazebo, or Downtown Parks unless it's a Community Event. Visitors may gather informally to conduct brief civil ceremonies and other family events amidst normal open space activities at these locations without Reservation. Please note as you make your plans, however, that Board-approved Community Events which are open to the public (eg., Festivals, Local Markets, etc.) pre-empt all other gatherings in City parks, so visitors are encouraged to frequently check the "News" or "Community Event" tabs on websites of local community organizers (Vermilion Chamber, Main Street Vermilion, etc.) for dates of major downtown/lakefront happenings involving City parks and open spaces.

Picnic Pavilions at Sherod Park, Showse Park, and West Breeze Park DO REQUIRE advance Reservation via the Group Use Permit for Parks. These are approved administratively once calendar dates are verified by the Board's office representative. Fax a signed, completed form to (440) 204-2411.
---
Activities
Youth Basketball
Youth Basketball is sponsored by the city Recreation Department. Sign-ups begin in November and games usually start in January. Both boys and girls teams are available for all age groups.
Youth Baseball & Softball
Youth Baseball & Softball is another function of the city Recreation Department. Coach pitch is available for the youngest set and then the children pitch for themselves and in recent years fast pitch has been added to the older girls to keep the girls competitive as they mature. Sign-ups for baseball begin in March of each year and play begins in late May or early June.
Youth Football
Youth Football is handled through the city Recreation Department also. Football sign-ups begin in July and close in August.
Other Activities
Various other programs are offered in conjunction with the above sports along with summer programs run by college interns when available.
Registration
Every child is welcome to play in every sport. Please sign up before the closing date to make sure you are not left out. It is important that no child be denied the privilege to participate in sports. Scholarships and/or financial assistance are available. Please contact the Mayor's office with your request.
---
Recreation Department
Our goal is to provide the citizens of the City of Vermilion and the Vermilion Local School District with a wide variety of recreational programs and opportunities year-round.
Winter
Basketball for youth leagues sign-ups begin in late October. Practices and games begin in January. Leagues exist for children in grades 3 through 7 as follows:
Junior Division- Grades 3 and 4 - Coed
Senior Division Girls - Grades 5, 6, 7
Senior Division Boys - Grades 5, 6, 7
Summer
Baseball and Softball are offered in Summer along with our growing Kid Kamp, a summer craft/activity/play camp for young children, and the ever-popular Movies in the Park, outdoor movies shown in Exchange Park free of charge under the stars for families to enjoy.
Fall
Sign-ups for youth Football commence in late July. Practices begin in late August followed by the player draft. League play begins in September and continues for 5 weeks, concluding in mid-October in both the Junior and Senior divisions. Games are played Monday - Thursday nights at 5:30 PM at the football field behind Vermilion Intermediate School. This is a tackle football league for players in grades 3 and 4 (Junior Division) and grades 5 and 6 (Senior Division). Players who are at least 8 years old and no more than 10 by September 1 may play in the Junior division. Players who are at least 10 and no more than 12 by September 1 may play in the Senior division. In addition to the grade and age limitations there is also a weight limitation in each league for who is permitted to carry, catch, or throw the ball . Players in the football program are required to provide their own insurance and complete approved tackle football equipment. Come see a game and enjoy the efforts of our young football players and stars of tomorrow.
Sponsors Needed
Please help the youth of our community by sponsoring a baseball or softball team or by making a donation towards our other programs. We are in need of sponsors for all our programs, including our ball teams, Kid Kamp, and Movies in the Park. Team sponsorships are $150 each, $125 each for 2, or $100 each for 3 or more. Movies in the Park are $300 each as a sole sponsor or you may make any donation you feel comfortable with and be listed as a contributing sponsor. Donations to the Kid Kamp program help offset expenses and permit us to offer this valuable play and craft program to the younger members of our community. Any help you can give is appreciated!
Basketball
Basketball is offered as an activity for youths in grades 3 through 7. Players are divided into two divisions by age/grade. Grades 3 and 4 play in the Junior Division which is coed. Youth in grades 5, 6, and 7 play in the Senior Division which is divided further into boys' and girls' teams. Our programs depend very heavily on the local businesses who sponsor our teams. Please make an effort to visit these various businesses and thank them for serving the youth of our community.
Vermilion City Recreation Basketball Rules
1) Defense -All teams will play man-to-man defense at all times.

2) Pressing -Full court pressing is not permitted other then during the final two (2) minutes of each half and then only if you are trailing or leading by fewer than 10 points.

3) Playing time -Every player is to play at least 10 minutes in the first half and 10 minutes in the second half, rosters permitting. Players should NOT be entered into the game and removed unless they have played at least 2 consecutive minutes. Exceptions to this rule include injury to a player, or a player reaching 4 personal fouls in the first half before they have reached their playing time allotment or if they foul out of the game. In cases where a roster is to large to accommodate all players under this rule, efforts are to be made to equalize playing time as much as possible in each game and/or consecutive games. In the Junior (Coed) Division the games are played with 4 players on a side at a time rather than the traditional five.

4) Timing -Games will consist of 4-ten (10) minute quarters during which time the clock will run continuously except as noted below.

-The clock will stop between quarters so that the coaches may organize their players for the next quarter. Please limit this time to as close to 1 minute as possible.

-The clock will continue to run whenever foul shots are being administered.

-Each team will be permitted two (2) -30 second time outs per half, during which the clock will continue to run.

-Any team time outs taken after 2:30 remaining in either half will end at the 2:00 mark.

-At 2:00 remaining in each half (or as close as possible without interrupting the flow of the game) there will be an OFFICIAL time out called during which the clock will stop for 1 minute to allow teams to get organized for the end of the half. No team time outs will be permitted after this official time out has been taken.

-The clock will be stopped by the referees for injuries or any other situation deemed necessary by them.

5) Fouls -Players are permitted 4 personal fouls. They will be removed from the game on the 5th personal foul.

6) Foul shots -Foul shots will be awarded as follows:

-A player fouled in the act of shooting will be awarded 2 foul shots if the shot attempt was not successful.

-A player fouled in the act of shooting will be awarded 1 foul shot in addition to the basket if the shot was successful.

-All non-shooting fouls for which foul shots are awarded will be awarded 2 foul shots. There will be no bonus foul shots (1 and 1) awarded.

-The clock will continue to run during foul shots.

-Two (2) shots will be awarded for all technical fouls and the fouled team will be awarded the ball at mid-court following the shots.

-On all fouls during the final 2 minutes of the game, the fouled team may choose to take the ball out of bounds under it's own basket instead of shooting the foul shots.

7) At the conclusion of the game, if the score is tied the game shall end in a tie. There will be no overtime played.

8) Special "over and back/defense" rule for Junior Division -The ball must be advanced across the mid court line within 10 seconds as normal. Defensive players may not begin guarding their man until their player has crossed mid court. The ball is not considered to be "over and back" unless it passes behind the whitish line on the floor which is BEHIND mid court. If the ball handler retreats behind the mid court line, his defender may once again not guard him until he once more crosses mid court. However, neither the ball nor the ball handler is permitted to remain in this "neutral zone" for more than 5 seconds, otherwise a turnover will be called and the ball awarded to the other team.

Any playing situation not covered specifically by these rules shall be governed by the basketball rules of the National Federation of High School Sports (NFHSS) and the Ohio High School Athletic Association (OHSAA).

The Recreation Department reserves the right to modify these rules at any time and any ruling made by the Recreation Director or one of his designees is final.
Misc Rules
1) DO NOT misuse or abuse the privilege of using the gyms and equipment or the buildings, especially the rest rooms.

2) Replace any equipment moved to it's original position and condition before leaving.

3) Sit ONLY on bleachers which have been previously pulled out. Do not sit on top of the bleachers if they have not been pulled out. DO NOT PULL THEM OUT OR PUSH THEM BACK IN WITHOUT A CUSTODIAN'S ASSISTANCE!

4) There is to be no dribbling or bouncing of balls outside the gym in the hallways.

5) Players are not permitted in the building without adult coach supervision.

6) Coaches must arrive early and leave late to insure that they are there before the players arrive and leave after the last player leaves. Players should arrive at the gym no more than 5 minutes prior to practice time and parents need to pick players up immediately at the conclusion of practice.

7) Neither players nor spectators are permitted in any other parts of the buildings other than the gyms and restrooms nearest the gyms.

8) There is to be no food or drinks brought into the gym.

9) NOBODY other than properly registered players are permitted to participate in any way. This includes siblings, friends, and bystanders. This includes any time before, between, or after games or practices.

10) All spectators MUST remain in the bleachers or stands during all games and/or practices. CHILDREN ARE TO BE SUPERVISDED AT ALL TIMES! UNATTENDED CHILDREN WILL BE SENT BACK TO THEIR PARENTS AND IF THEY REMAIN UNATTENDED THEY AND THEIR PARENTS MAY BE ASKED TO LEAVE THE PREMISES.

11) Each team should provide a scorekeeper to sit with and assist the official scorekeeper. If a team does not provide a scorekeeper then they shall have no recourse if there is a question about the official score or record of the contest.

12) Players are not permitted to wear any jewelry including, but not limited to, earrings (even if covered by band aids, tape or other substance), bracelets (including rubberized ones), metal hair clips, rings, etc. Stretchy hair ties may be used as long as they do not include any but a very small metal piece connecting the ends.

13) Players MUST wear proper gym shoes with non-marking soles, athletic-type clothing, and, during games, their team shirt. If for some reason a player does not have their team shirt they may wear an appropriate colored shirt providing they are easily identifiable. The referees will rule on this issue if necessary.

The Recreation Department reserves the right to modify these rules at any time and any ruling made by the Recreation Director or one of his designees is final.
Baseball & Softball
Softball is played by the fast pitch softball rules of the National Federation of High School Sports and the Ohio High School Athletic Association with appropriate modifications for youth play. Baseball is played by the rules of baseball for these organizations with similar modifications. These modifications may be viewed on our web site or are available at the Recreation Department office.

Softball - Rookie (Coach pitch) - Grades K, 1, 2
- Minor - Grades 3, 4, 5
- Major - Grades 6, 7, 8

Baseball - Rookie (Coach pitch) - Grades K, 1, 2
- Minor - Grades 3, 4, 5
- Major - Grades 6, 7, 8
Football
Registration for the Fall football program begins in late July and continue through late August. Practices begin in August.
Games are played each Monday - Thursday night at 5:30 PM at the football field behind Vermilion Intermediate School (VIS).
For more information please contact the Recreation Department. Players will be assigned to specific teams through a draft process after the 3 day evaluation period. Players will be notified of their team assignment at that time. Players returning to the same league from last year will return to the same team if possible. Practice are at 5:30 pm at Vermilion Intermediate School on Decatur Street. Teams will be created by draft after the three day conditioning-evaluation period. Games begin in mid September and conclude in mid October.
Funding
To build a better community, in 1963 the Vermilion Parks and Recreation Department was established to support and improve existing programs and facilities within Vermilion. This department is funded through you tax dollar at the rate of ½ mil. This fund is not allowed to be used for any expenditure other than a city parks activity or improvement. Each year, the Auditor of the State of Ohio reviews this department to see that your tax dollar is spent correctly.

With the assistance of this tax, the Parks and Recreation Department can make sure our parks are safe, clean, and user friendly, significantly adding to the quality of life in "Our Community."

"The Benefits Are Endless" in the area of parks and recreation. Everyone is affected by our parks. Parks give families the opportunity to build strong family ties and provide a source of community pride. An investment in parks and recreation is investing in everyone, now and in the future. The Parks and Recreation Department will work closely with you, your business and/or your family to ensure your tax dollar will be used to its highest potential for the equipment.

Gifts can be accepted in many forms. Gifts of all sizes are welcomed and appropriate recognition will be arranged. Donors choose whether gifts are made publicly or privately. Contributions are tax deductible based on the appraised value of the donation.

Cash Donations are accepted in many forms, some of these include:
Memorials: given in memory of another individual as a lasting memory
Endowments: long term support for general or specific programs
Bequests: the naming of the Fund as a beneficiary in your will
Land and Personal Property: including cars, trucks, boats, real estate etc.
Trust: an investment that combines lifetime income with long-term sharing
Valuables: the value of stocks, bonds, antiques, coins etc. may be donated
Life Insurance
Examples of Projects of High Priority for your Tax Dollar are:
Improvements to Sailorway Complex
Improvements to Valley View Pool and Tennis Courts
Playgrounds in all parks
Trees, flowers and landscaping
Flag poles
Beach cleaning equipment
Gazebos, picnic tables, benches
Playground equipment Vermilion Parks & Recreation