At the Vermilion City Council Meeting on Monday, February 3, 2020 Mayor Forthofer reported that the Administration and the Parks Board is working with Western Reserve Land Conservancy to source funding necessary to start work on the Main Street Beach Development Project.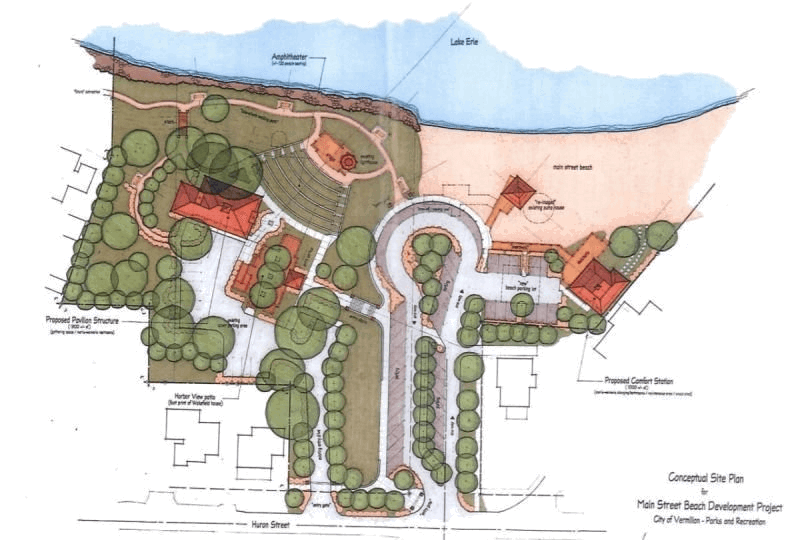 "This is a project that has been nine years in the making and has included the dedicated hours of many citizens including Councilman Loucka," stated the mayor.
"As part of the Parks and Recreation Department, the new Main Street Beach Complex will run revenue neutral," said the mayor. "It is planned to extend to from west of the old Inland Seas Museum to the Vermilion River and include public rest rooms, changing rooms, additional parking and a board walk."
"At this point, no request for City funds are planned," said the mayor.
The mayor also stated that he and the Parks Board President engaged residents who have alternative ideas for old Wakefield Property.
At the Vermilion Parks & Recreation Board meeting of January 21, 2020, Chairman Terry Parker said members from the Harbor View Project subcommittee and the administration had an informal conversation with the 'Concerned Citizens' who are working to save the Harbor View Mansion.
"It was a cordial meeting, and they received their input and vice versa," said Parker.
He, along with the mayor, made it clear that they have a plan that is in motion for the area. The plan includes demolition of the Harbor View Mansion. They asked the 'Concerned Citizens' group to submit some type of a business plan for what they are hoping to do, but to be aware that their plan is in motion.
"These are good folks who are working hard for something they believe in," said Parker.
Mayor Forthofer said where they are today didn't just happen.
"This is a combination about nine years of continuous meetings, plans, research, and architectural appraisals," stated the mayor. "It's sort of late in the game, but they're still interested in whatever anyone has to say as 'Concerned Citizens' have good hearts. But in the end, they need to know whether they can make it work or not."
Parker said the decision for the complete demolition was made in December of 2017 in the Parks Board meeting. This has not been a secret, and they have held public meetings. He feels the 'Concerned Citizens' activity was stimulated by their July discussion regarding fundraising. He said they're fighting the calendar, and they've got a long way to go, but at least they are having good dialogue and they will continue to do so.